About Chris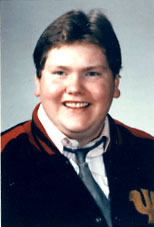 Chris O'Connor was born on April 20, 1971, in New York City. He was the son of Michael J. O'Connor and the late Joan Marie (Fuhrman) O'Connor.
After living for many years in the Big Apple, the O'Connor family moved north to Bolton Landing in the early 1980's. Chris loved his time there. He was very active in the community, sports and his church. He served as an altar boy at Our Lady of Lourdes Catholic Church in Queens Village and at the Church of the Blessed Sacrament in Bolton Landing, where he was a member.
Chris graduated from Bolton Central School in 1989. It was during this time that he also began working as a sous chef for the House of Scotts Restaurant, and he would continue his working relationship with them for more than 17 years.
After leaving High School, Chris attended SUNY Potsdam, where he earned a degree in Computer Science and Human Labor Relations in 1994.
During his time in Potsdam, Chris joined Psi Phi Delta Fraternity. Through the Fraternity Chris developed many close friendships that he maintained for the rest of his life.
He was extremely proud of his Irish heritage and roots, and spent a great deal of time researching Ireland's history as well as the O'Connor family's Irish history.
Chris had many other interests as well, including golf, camping, picnicking, cooking and traveling to Wells, Maine, on vacations.
On April 20, 2002 Chris married Bobbie-Jo Ryder at Blessed Sacrament in Bolton Landing. Together they had two beautiful girls, Meghan Debra O'Connor (4) and Rachael Marie O'Connor (2). He especially loved spending time with his two daughters, Meghan and Rachael, whom he cherished. He was a wonderful father.
Chris passed away suddenly Monday, Feb. 20, 2006. He will be missed by all who knew him.